Gaming is a popular hobby in today's society, additionally, certain accessories are always considered as a way to enhance our gaming experience. One of those is audio headsets.
Further down we will showcase two headsets, Logitech G430 vs Hyperx Cloud Stinger. Comparisons will be drawn between their specifications, be they headphone or microphone bound, and from said comparison, we'll offer a suggestion for your next purchase.
Logitech G430 vs Hyperx Cloud Stinger – Similarities
Noise-Cancelling Microphone
These microphones are built to pick up your voice while ignoring the background noise, offering no side interference when you are in a voice chat. Thankfully this feature is present on both our entrants, making your experience unimpeded by any sound traffic.
Microphone Sensitivity
This is the measure of the microphone's ability for converting acoustic pressure into an electric voltage. The higher the sensitivity, the less pre-amplification required to bring the sound to a useable level on the mixer channel. Both our entrants provide -40 dBV, so you needn't bang your head about it much.
Connectivity
Despite the usual inclusion of a 3.5mm jack for simple connection to all the general devices the headphones conform to different gaming consoles as to provide maximum versatility no matter your preferred way of experiencing games, as long as you have adapters.
Side by Side Comparison
| | | |
| --- | --- | --- |
| Name | Logitech G430 | Hyperx Cloud Stinger |
| Image | | |
| Dimensions | 9.84 x 8.98 x 4.33 inches | 9.50 x 10.75 x 3.00 inches |
| Weight | 9.1 oz | 9.8 oz |
| Microphone Sensitivity | -40 dB | -40 dB |
| Headphone Sensitivity | 98 dB | 102 dB |
| Microphone Frequency Range | 50 Hz – 20 kHz | 50 Hz – 18 kHz |
| Headphone Frequency Range | 20 Hz – 20 kHz | 18 Hz – 23 kHz |
| Impedance | 32 Ohms | 30 Ohms |
| Driver Size | 40 mm | 50 mm |
| Cable Length | 10.5 ft | 4.2 + 5.6 ft (9.8 ft total) |
| Warranty | 3 years | 2 years |
| Price | | |
Differences Between Logitech G430 and Hyperx Cloud Stinger
Microphone Frequency Response Range
The key specification in showcasing what span of sound frequencies can be reproduced by your microphone.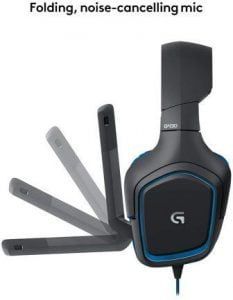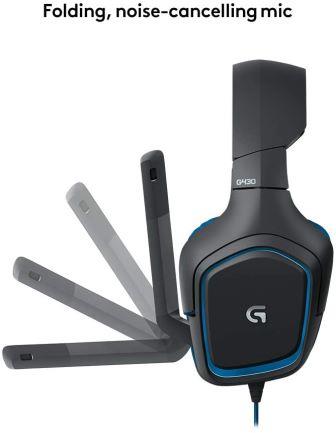 Logitech G430
First is G430's microphone at 50-20 kHz frequency response range, with a decent low end and good high end. It will make sure all your highs and lows are reproduced well.
Hyperx Cloud Stinger
With a slightly lower maximum at 18 kHz and the same minimum frequency Cloud Stinger places right behind Logitech G430, reproducing high notes worse but maintaining most of the remaining range.
The Winner: Logitech G430
Headphones Sensitivity
One of the more important specifications as it dictates how loud headphones can get.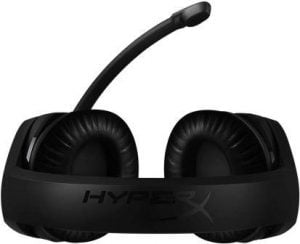 Logitech G430
The sensitivity of 90 dB is what G430 gives us. This is somewhat above standard sensitivity for headphones and will allow you to make some good noise inside of earbuds, but don't overdo it or you may damage your hearing.
Hyperx Cloud Stinger
Hyperx's entrant lends 102 dB to this comparison. Such sensitivity makes for a rather loud pair of earphones. If you bump them up to their max volume make sure to pay even more mind to how long you keep them on.
If it is the volume you ask for Cloud Stinger will provide, making it the winner in this category.
The Winner: Hyperx Cloud Stinger
Read next  – Logitech G231 vs G430: Which Gaming Headsets are Better?
Headphones Frequency range
Similar to the previous specifications but for sounds produced by headphones themselves.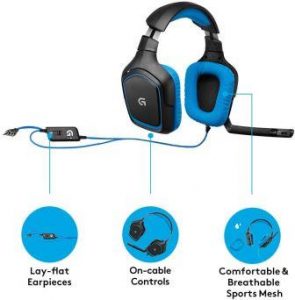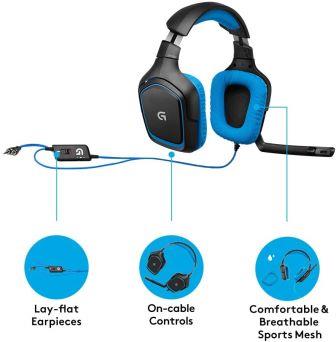 Logitech G430
Standard 20 Hz minimum frequency is what G430 has as its starting point, although a solid limit it's nothing to write home about. Maximum frequency also keeps a regular 20 kHz cap, making G430's placement in this category very average.
Hyperx Cloud Stinger
Providing less present 18 Hz to 23 kHz span between the minimum and maximum frequency gives Cloud Stinger a greater reach in sounds it can reproduce.
The Winner: Hyperx Cloud Stinger
Read next – Logitech G430 vs G432: Which Gaming Headsets are Better?
Impedance
Dictates resistance inside headphones, both our models fall into a low-impedance category which goes up to 50 Ohms. The higher the impedance the more crisp sound is.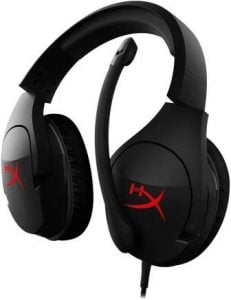 Logitech G430
At 32 Ohms this model will lay out a soundscape of nice quality.
Hyperx Cloud Stinger
30 Ohms puts Cloud Stinger at a minor disadvantage compared to the competitor. Nevertheless, its soundscape will remain decent enough.
The Winner: Logitech G430
Read next – Logitech G35 vs G930: Which Gaming Headsets are Better?
Cable Length
Logitech G430
With incredibly long 10.5 ft you will sooner find yourself having issues with the extreme length of the cord than lacking cable for comfortable use.
Hyperx Cloud Stinger
At a more standard cable length Cloud Stinger has a 4.2 ft range with its cord which can get extended to 9.8 ft.
Despite excessive length becoming more of an issue at times, it is still preferable to being caught short on reach.
The Winner: Logitech G430
Driver size
Driver size impacts the loudness of headphones themselves. It varies between 20 mm and 50 mm.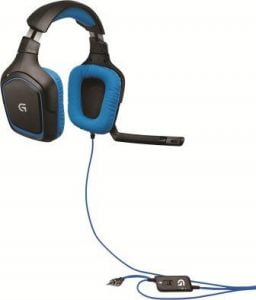 Logitech G430
Offered on G430 is a standard 40 mm driver. It will do you well enough on volume with this size.
Hyperx Cloud Stinger
Hyperx's model is equipped with 50 mm drivers, providing loudness surpassing its competitor. Although slight, improvements in bass are present too.
The Winner: Hyperx Cloud Stinger
Warranty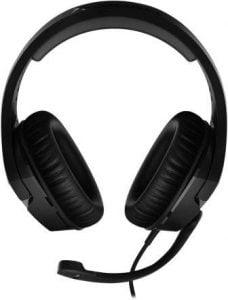 Logitech G430
It has 3 years of warranty to its package, quite a decent length for this price tag.
Hyperx Cloud Stinger
At 2 years Stinger does not provide as long of a warranty as the other entrant but maintains a moderately fitting length.
The Winner: Logitech G430
Pros and Cons
Logitech G430
PROS
Long cable
Good Microphone Frequency
Lightweight
3 Year Warranty
CONS
Standard soundscape
The cable can be hard to stash
Hyperx Cloud Stinger
PROS
Great headset frequency
The capability of high volume
Great adjustability
Lightweight
CONS
Requires cable extension for anything past the standard length
Shorter warranty
The Final Verdict
Looking over the two models gave us plentiful insight into their ups and downs. It seems both maintain great microphone functionality for any form of voice chats you may require it for. Connectivity and versatility are good, fitting for devices you'll use it for. Differences crop up in various categories such as cable length and warranty, where Logitech G430 takes a quick win with its extremely long cord and a year long warranty. More tooth and nail battle was fought in impedance and microphone frequency range, with the winner being Logitech G430 once more but by a very slight margin. Tides turn to Hyperx Cloud Stinger's side with the headphone frequency range and driver size categories going for it.
In the end, this very tight dispute is settled by the actual use you'll have from these models. You most likely want good sound quality and microphone functionality in which case Hyperx Cloud Stinger with its superior sound-related specifications and only slightly inferior microphone.