The WiFi duo of keyboard and mouse is the most comfortable way to experience your daily documentation struggles. Affording said gear also comes very cheap but, we do want to maintain quality in our peripherals. Hence the best way to look is usually Logitech. Price aside, performance is the greatest concern when purchasing said peripherals.
On that note, we will be covering two choices from the aforementioned company. Logitech MK270 and Logitech MK320 to be more precise. We will compare their specifications in different categories, presenting what they excel at or share, in order to present an optimal pick for you.
Logitech MK270 vs MK320 – Similarities
Battery Requirements
Either choice has the same needs for running. For keyboards it is 2 AAA batteries while for their mice you'll require 1 AA battery, both of these battery sets come with the package so your initial power supply is free of charge.
Connectivity
Wireless keyboard and mouse combo still require some form of connection to the personal computer, these two models share the standard USB connection so no matter what you plan to plug it in you should be set. Additionally, they run on the standard 2.4 GHz frequency offering great performance with the least amount of dropouts.
Wireless range
Despite not being constricted by cords these devices still have a certain range of functionality. For models being revised today, we have 33 feet of wireless range. It should require fruitful coverage no matter your setup.
Number of buttons on the mouse
Both mice that are included with these keyboards have two buttons. It is not much in terms of added functionality but it will serve well for some frequently used functions you may have in mind.
Warranty
Combos have a 3-year long warranty on their parts. No matter whether you run into malfunctions with mice or keyboards you'll be able to get a replacement.
Mouse Sensor
These keyboard and mouse duos have mice with optical sensors. Optical sensors allow them to work on various surfaces with minimal interference.
Side by Side Comparison
| | | |
| --- | --- | --- |
| Name | Logitech MK270 | Logitech MK320 |
| Image | | |
| Wireless Frequency | 2.4 GHz | 2.4 GHz |
| Keyboard Battery Duration | 36 months | 24 months |
| Mouse Battery Duration | 12 months | 12 months |
| Connectivity | USB | USB |
| Battery requirements(keyboard) | 2 AAA | 2 AAA |
| Battery requirements(mouse) | 1 AA | 1 AA |
| Wireless Range | 33 feet | 33 feet |
| Mouse sensor | Optical | Optical |
| Number of buttons | 2 | 2 |
| Warranty | 3 years | 3 years |
| Price | | |
Differences Between Logitech MK270 and Logitech MK320
Media control keys
The more keys a device has the more shortcuts you have at your fingertips, providing quicker operation on any process you are currently partaking in.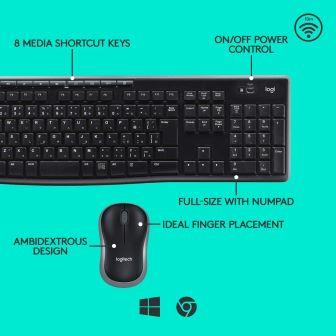 Logitech MK270
In this model, we have eight different keys for controlling media. Be it lowering or increasing volume, muting and a few other functions available to you with a touch of a single button.
Logitech MK320
The MK320 model has whole eleven buttons to use for manipulating your applications.
The Winner: Logitech MK320
Battery life
When it comes to wireless devices battery life is one of the most important aspects as it determines whether your investment will pay out over a longer duration or if you'll just end up spending a lot of money on batteries.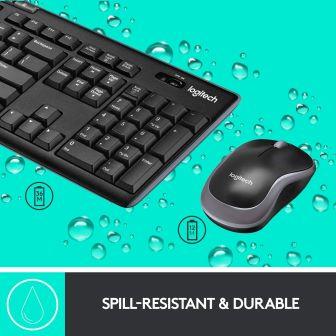 Logitech MK270
First up in this category is MK270. The battery on the keyboard and mouse have different durations. The keyboard will last your whole 36 months while the mouse has 12 months of battery charge. While three years of battery is great value for a single battery set the 12 months of mouse usage per set may prove more noticeable. Regardless you will be hassle-free for a long while.
Logitech MK320
On the other hand, while MK320 shares 12 months of mouse battery duration the keyboard had a bit of a change in that department. Specifically, it now lasts for 24 months rather than 36, achieving two years of work time. Regardless of your pick, you will have months without hassle as you needn't constantly change batteries. One more thing to note is the on and off switch which you should utilize whenever not using your peripherals.
The Winner: Logitech MK270
Read next – Logitech MK270 vs MK275: Which Wireless Keyboard and Mouse Combo are Better?
Appearance
Logitech MK270
The simple sleek design of MK270 with its compact mouse gives off a simple but functional design. The mouse can fit into computer bags and even pockets with no problem, allowing easy transportation of your peripherals.
The keyboard itself isn't too big despite being a full-size keyboard in terms of keys present on it. This includes a built-in number pad of course, for those who spread out their button usage. Some other important aspects to note have to do with the keyboard being quiet and comfortable with well-spaced-out buttons.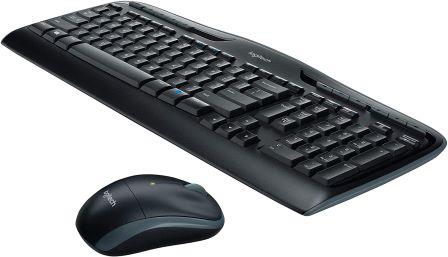 Logitech MK320
Sharing a lot of its design with the MK270 model, MK320 maintains a familiar layout with quiet keys. The overall shape is more oval than the past one but all in all it is a minor aesthetical difference rather than any fruitful one.
Both Mk270 and MK320 have a spill-proof keyboard, which has been tested under various circumstances and should offer proper protection from any possible liquid spills.
 The Winner: Tie
Pros and cons
Logitech MK270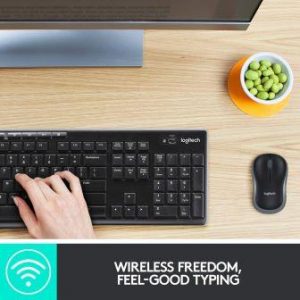 PROS
Long battery span
Compact
Lightweight
CONS
The mouse has a third of the keyboard's battery
Logitech MK320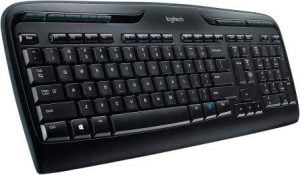 PROS
11 function buttons
Long-range
Compact
CONS
Pricey
Shorter battery span
THE FINAL VERDICT
Differences between Logitech MK270 and Logitech MK320 are apparent from the beginning. Battery life and additional keys being said differently. Battery life especially becomes a prominent differentiating factor when you note that purchasing Logitech Mk270 offers a whole additional year of keyboard battery duration.
Sure, the three additional buttons that MK320 provides are all fine and good but unless you are somebody who heavily utilizes them while having enough money for all the additional battery power it doesn't matter.
Being somewhat more expensive does impact Logitech MK320 as well, considering other factors it excels at are meek by comparison. However, it is important that both models maintain a lot of quality features, retaining a decent placement amongst peripherals. In the end, Logitech MK270 inches out as a winner. A longer battery coupled with a lower price is all you need when the rest of the package is this decent.
Runner up Logitech MK320 🥈