In the photo equipment market and regular peripheral market, there are a ton of options available for purchase even with a medium budget. When it comes to scanners there are a few manufacturers which offer very good specifications, one of them being Epson. In the following article, we will look through two Epson Perfection models, Epson V600 vs V800, gauging their strengths and weaknesses. At the end, we will give insight into which of the two offers superior specifications and utility for all of your scanning needs.
Epson V600 vs V800 – Similarities
Color Depth
The number of colors the scanner can replicate are directly proportional to its color depth. The higher the number of bits dedicated to determining each pixel's colors the more shades of said color will be represented. As far as Epson V600 and Epson V800 go, the amount of bits on offer is 48. With that amount, each primary color from the RGB spectrum gets 16 bits to determine its shade. This results in a total of 65,000 different shades of each primary color.
Operating system support
The compatibility with the operating system is important to even get your scanner running. The variety of OS in use we've got nowadays makes this category even more important. Thankfully, both models have coverage for Windows, Mac OS, and Mac OS X operating systems. These are the most used operating systems nowadays, therefore you should be covered no matter your rigs software. It does add a wider reach to the compatibility of these scanners.
Read next – Epson V370 Vs V600: Which Scanners are Better?
Digital ICE
The fidelity of a scanner is important but it's also good to have features that aid in repairing any defects present on objects we scan. For this purpose, Epson has Digital ICE technology. This feature is present on both of the models we've on review today. The way it works is by scanning two images of the object, one that's taken while the object is illuminated by a cold light lamp while the other is taken with an infrared lamp. The first one takes a regular image while the second one scans defects. The two are then utilized together to fuel an algorithm that fixes most defects.
Automatic Image Correction
While Digital ICE does a great job of rectifying any major defects from the source material it's good to have an automatic resolution to minor issues which appear on photographs and other scanned materials. This is achieved with automatic image correction inherent to the scanning process of these Epson models.
Side by Side Comparison
| | | |
| --- | --- | --- |
| Name | Epson V600 | Epson V800 |
| Image | | |
| Weight | 9 lbs | 14,6 lbs |
| Dimensions | 11 x 19 x 4.6 inches | 12.1 x 19.8 x 6 inches |
| Color | Black | Silver |
| Optical Resolution | 6400 dpi (Optical) | 6400 dpi (Optical), 9400 dpi (Interpolated) |
| Color Depth | 48-Bits | 48-Bits |
| Light Source | LED | LED |
| Digital ICE | Yes | Yes |
| Automatic Image Corrections | Yes | Yes |
| Film Formats | 35 mm, medium film format | 35 mm, medium film format |
| Operating System Support | Windows, Mac OS/ OS X | Windows, Mac OS/ OS X |
| Price | | |
Differences Between Epson V600 and Epson V800
Maximum Resolution
This is the second important specification in determining the scanner's fidelity, the first one being color depth. The higher the resolution the more fidelity is given to each inch of the object being scanned.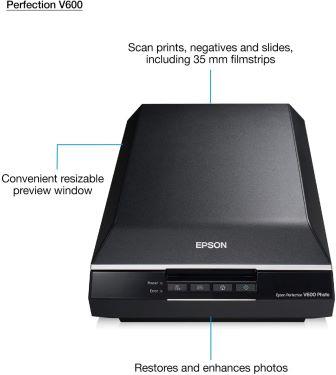 Epson V600
When it comes to V600's maximum resolution it reaches 6400 dpi. It is optical resolution, which is the ability of the imaging system to resolve detail in the object being imagined, disallowing for the scanned version to look better than the original object. This offers very good fidelity to your scanned media.
Epson V800
The resolution of this item has two types of operation. There is the standard 6400 dpi specification still present, allowing for good scans, but has another aspect to its resolution. The interpolated 9400 dpi scanning resolution allows the device to extrapolate an image of the scanned object that isn't limited by the quality of the original.
The Winner: Epson V800
Read next – Epson V550 vs V600: Which Scanners are Better?
Appearance
Every physical design aspect of the two models on review is represented in this category. Any changes between the two items will also be noted.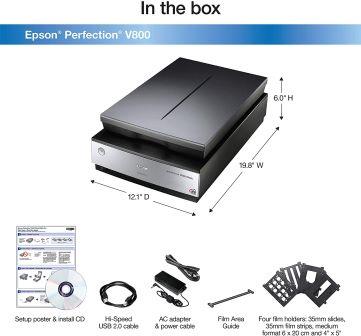 Epson V600
The Epson Perfection series is exclusively made with flatbed designs. The flatbed design utilizes a simple appearance and functionality. Convenient and compact, these items can be used even in a small office. The function keys are found at the front of the scanner.
Epson V800
Due to coming from the same series V800 shares the flatbed design. It maintains the compactness and convenience of the usual flatbed while introducing slight changes. Silver color and a more cube-like design as well as different button placement come with Epson V800. It is a bit heavier than the predecessor though.
Both devices have good designs which don't waste the surface for unnecessary flair while still being stylish, the weight increase is slight but it doesn't do much to push either item over the other.
The Winner: Tie
Read next – Epson V600 vs V700: Which Scanners are Better?
Pros and cons
Epson V600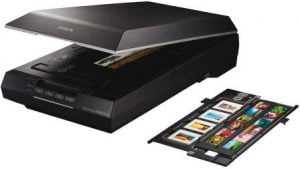 PROS
Great color depth
Good resolution
Digital ICE technology corrects defects
Image correction feature boosts the quality of scans
CONS
Can have issues running on older software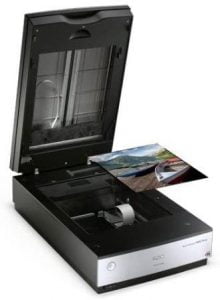 PROS
Great color depth
Good resolution
Expanded quality options with interpolated resolution
Digital ICE technology corrects defects
Image correction feature gets a better quality of scanned images
CONS
Plexiglass in the scanner can be a bit bothersome to clean
The Final Verdict
When it comes to the Perfection series of scanners by Epson quality is to be expected. Powerful specifications and ease of use have been staples of this line of scanners for a while now. Epson V600 and Epson V800 do not stray away from said quality. If anything, they reinforce already established specifications while adding more to them. Epson V600's Digital ICE technology improved upon its predecessor by allowing both films and print to utilize it while Epson V800 comes in with some potent interpolated maximum resolution as well as some minor improvements to the overall experience. That said, improvements brought in by Epson V800 are still felt on the overall experience with the printer. This results in that model edging out competition during this comparison. Epson V800 is the clear winner here, offering an upgrade for those hungry for even more visual fidelity of their scanned objects, and as such gets our recommendation in today's comparison.