The importance of proper scanning equipment is known to a lot of different groups of people. It can be a professional setting or just as a layman's way of quickly scanning your photos. Among scanners, Epson ones pose a decent option for anybody requiring one. Specifically, we will be looking into Epson V550 vs V600. The following article will compare their strengths and weaknesses, as well as listing their similarities, before giving you a suggestion for your future purchase.
Epson V550 vs V600 – Similarities
Maximum resolution
Every scanner has a certain resolution it will perform scans at. It can vary depending on configurations but there will always be a limit they can hit. This is what we call maximum resolution and the higher it is the more pixels it will create, the greater the number of pixels the larger the image size becomes. As far as this configuration goes, both models possess 6400 dpi of maximum resolution. Dpi stands for dots per inch and refers to dots per inch, when an image is scanned each scanning dot equals one digital image pixel. This is a very potent number for flatbed printers.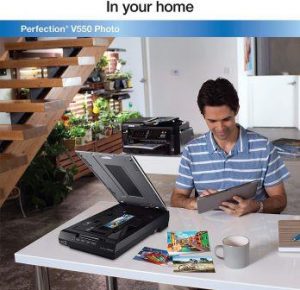 Color Depth
While the number of pixels is important to the clarity of scanned objects we shouldn't forget other categories necessary to accurately maintain the quality of the scan. One of these important categories is color depth. This category indicates how many bits are used for every color component of a single pixel. It allows for more colors to be replicated due to the amount of data used for deciding the color of each pixel. The color depth of Epson Perfection V550 and Perfection V600 is the same, reaching 48-Bits. With this amount of bits, each primary color in the RGB spectrum gets 16 bits to be used for its differentiating, offering over 65,000 shades for each primary color.
Media Types
Negatives, slide, photo. The important bit of utility for scanners is showcased in the media that can be used with them. The amount of usability you get only increases with the amount of media types available to you. As far as Epson V550 and Epson V600 are concerned the media types available to them are negatives, slides, and photos.
Read next – Epson V370 Vs V600: Which Scanners are Better?
Side by Side Comparison
| | | |
| --- | --- | --- |
| Name | Epson V550 | Epson V600 |
| Image | | |
| Weight | 9.6 lbs | 9 lbs |
| Dimensions | 11.2 x 19.1 x 4.6 inches | 11 x 19 x 4.6 inches |
| Color | Color | Color |
| Maximum resolution | 6400 dpi | 6400 dpi |
| Scanner Type | Flatbed | Flatbed |
| Color Depth | 48-Bits | 48-Bits |
| Light Source | LED | LED |
| Automatic Image Corrections | Yes | Yes |
| Digital ICE | Yes (photos) | Yes (photos and printing) |
| Price | | |
Differences Between Epson Perfection V550 and Epson Perfection V600
Digital ICE
Digital Ice technology is a convenient way to restore old films and slides. The defects that accumulate over the years can be quickly removed by using Digital ICE technology. When it comes to how it works the explanation isn't too convoluted. The photo is illuminated by the cold light lamp and the information from the image is captured and sent to the scanner software. Then the photo gets illuminated by the infrared lamp, storing defect information and delivering it to scanner software. After that, the two images formed from this information are compared and the defects are removed by the algorithm.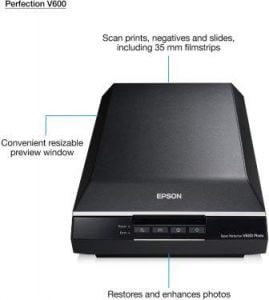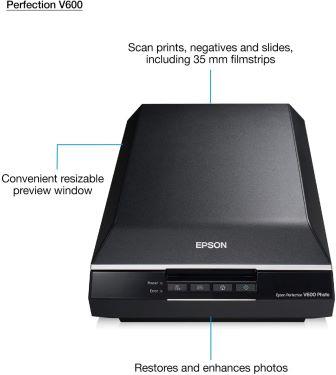 Epson V550
When it comes to utility we've seen Epson V550's got some very strong specifications. These are further enhanced with Digital ICE technology. It can use this technology to repair defects on old films which may have gotten damaged over the years. Although it can come in use for any recent films which you've had a mishap with.
Epson V600
Following the V550, this model maintains the ability to detect and correct defects on films by utilizing its Digital ICE technology. The difference between the two however lies in Epson V600's ability to affect not only films but also printing, something Epson V550 isn't able to do. It gives another dimension of utility to the device that is greatly appreciated.
The Winner: Epson V600
Read next – Epson V600 vs V800: Which Scanners are Better?
Appearance
Epson V550
Utilizing a flatbed scanner design with a flat, glass surface for scanning documents, Epson V550 occupies a lot less space than regular scanners. Its lid is also easy to modify the height of, so you can scan thicker objects such as magazines and books. It does have a few function buttons included for quick scanning so functionality is covered together with convenience.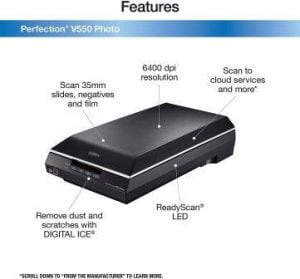 Epson V600
While it keeps the flatbed design, and the benefits that come with it, Epson V600 is leaner but slightly longer. It seems like a refined design of the previous, thicker one. The function buttons are still included, in the same location too.
The Winner: Epson V600
Read next – Epson V600 vs V700: Which Scanners are Better?
Pros and cons
Epson V550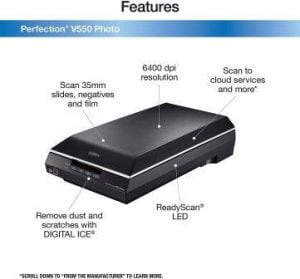 PROS
Huge variety of colors
Good resolution
Compatible with a good number of media types
Digital ICE technology
CONS
Doesn't cover as many formats, still decent coverage
Epson V600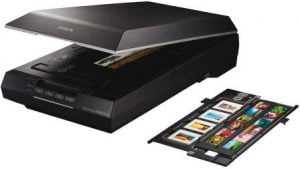 PROS
High color depth
Great Resolution
Big amount of media type compatibility
Digital ICE technology that works on both films and printing
CONS
Has issues with older operating systems
The Final Verdict
Epson's V line of scanners boasts great scanners with a myriad of features. A number of those haven't even been listed above as they are less crucial to the overall impact they have on the scanner's functionality. As we can see both Epson Perfection V550 and Epson Perfection V600 have quite a lot of mutual specifications. Although there are still a few points where Epson V600 showcases improvements. Ones we've laid out are the ability to use Digital ICE technology on printing as well as films and the sleeker design which can prove very useful for anybody who has an office without much space for additional devices.