In terms of peripherals, scanners are one of the most present ones. This stems from their widely applicable nature, especially with the ability to quickly back up your information. The number of media types supported by these peripherals gives additional utility to this capability. To give you a proper purchase in this category we will be looking into Epson V370 Vs V600, comparing their strengths and weaknesses for the sake of giving you better insight into what they offer.
Epson V370 Vs V600 – Similarities
Media Types
This category tells us more about compatible media scanners can wor with. The higher the number of compatible types the better the item is, even if additional media it supports is fringe in usage it's better to have the option than to not have it at all.  Models on review today share compatible media types. These types are negatives, slides, and photos.
Color Depth
When it comes to image fidelity there are two specifications we should look out for. The first one is the resolution which we will take a deeper look into when we get to differences and the second one is color depth. Color depth determines the extent of color reproducible by the device. The more bits there are the more shades of can be recreated due to more data being given to each pixel when deciding its color. As far as this category goes, both of our models have very good color depth at 48-Bits. This allows them to reproduce over 65,000 shades of each primary color in the RGB spectrum.
Side By Side Comparison
| | | |
| --- | --- | --- |
| Name | Epson V370 | Epson V600 |
| Image | | |
| Weight | 6.1 lbs | 9 lbs |
| Dimensions | 11 x 16.9 x 2.6 inches | 11 x 19 x 4.6 inches |
| Color | Black | Black |
| Optimal Resolution | 4800 dpi | 6400 dpi |
| Color Depth | 48-Bits | 48-Bits |
| Digital ICE | Yes | Yes |
| Film Formats | 30 mm | 30 mm, medium format |
| Media Types | Negatives, slides, photos | Negatives, slides, photos |
| Light Source | LED | LED |
| Automatic Image Corrections | Yes | Yes |
| Operating System Support | Windows, macOS/OS X | Windows, macOS/OS X |
| Prices | | |
Differences Between Epson V370 and Epson V600
Film Formats
Under this specification, we will get some insight into film formats supported by the two devices. The film formats include any films utilized in camera equipment. The more items scanner supports the better it is.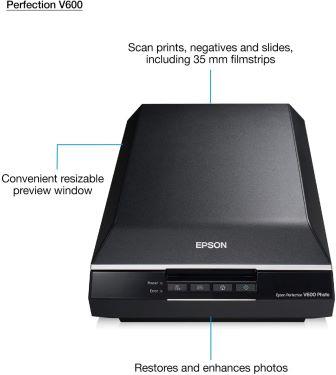 Epson V370
The only available film format on Epson V370 is 35 mm film format. The format itself is used in many cameras such as single-lens reflex cameras, rangefinder cameras, mirrorless interchangeable-lens digital cameras, point-and-shoot film cameras, and many more.
Epson V600
The model retains 35 mm model support, allowing all of the aforementioned cameras to be covered when it comes to scanning necessities. On top of that, it has medium film format compatibility. This includes any camera format that makes use of the 120 film size or utilizes a digital imagining sensor that mimics that size.
The Winner: Epson V600
Read next – Epson V600 vs V700: Which Scanners are Better?
Optical Resolution
When using scanners we want the highest quality possible for the investment. Discerning the fidelity of the picture is partially done by resolution, as we've mentioned before. The amount of dpi, dots per inch, directly increases the fidelity of the object scanned.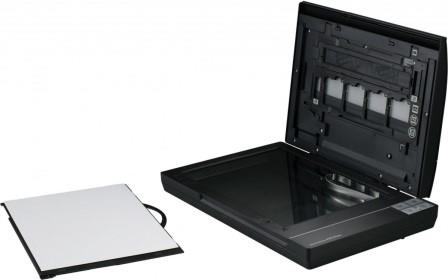 Epson V370
We've already seen V370 showcase its potential in the color depth category so let's see how well it does with resolution. This flatbed scanner comes with 4800 dpi of optical resolution. The number is quite potent, offering proper fidelity for its price. With this, your pictures should be replicated properly and scanned documents left fully readable.
Epson V600
The next model doesn't waste time when it comes to building onto the V370 entry in the Perfection series. Its optical resolution goes up to 6400 dpi, offering a straight improvement in the visual fidelity of scanned objects. Be it pictures, documents, books, or any other item your scans will be high quality every time you use this device.
The Winner: Epson V600
Read next – Epson V600 vs V800: Which Scanners are Better?
Appearance
This covers the beneficial aspects of the item's design and any specifics those may have.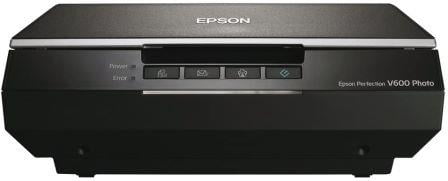 Epson V370
In terms of design, V370 utilizes the flatbed scanner appearance. The flatbed scanners set emphasis on occupying less space than usual. Their flat design makes them simple to operate as most scanning is done by placing items under the lid. The remaining aspects of its design are no less convenient. The four buttons to the right side of the item provide quick access to any important activities.
Epson V600
The second Epson model also uses the flatbed design, offering quick scanning preparation by putting the items to be scanned under the lid. Buttons have been shifted to the front of the scanner but retain their functionality. One visible change is a sleeker design, occupying even less space despite improved specifications.
Read next – Epson V550 vs V600: Which Scanners are Better?
Pros and Cons
Epson V370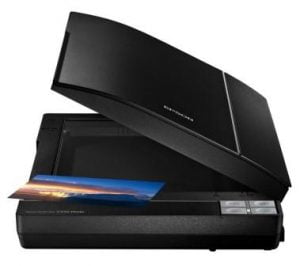 PROS
Decent resolution
Good color depth
Convenient flatbed design
Digital ICE technology
CONS
No compatibility with medium film formats
Epson V600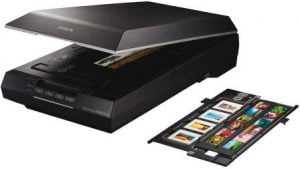 PROS
Great resolution
Good color depth
Convenient flatbed design
Digital ICE technology
CONS
Have some issues running on older hardware
The Final Verdict
After going through their specifications a few things become apparent. The most apparent is that both of these models have very formidable specifications. This made finding firm, quality-altering differences hard. V370 came out some years back yet still holds up for most scanning needs. However, it is very apparent V600 isn't without its benefits. The increase in optical resolution may seem like overkill, what with 4800 dpi already providing a decent amount of clarity, but fidelity is something that's widely appreciated. The design, while a bit bigger than V370, still has a compact and convenient note to it. The real bump in quality comes from more film formats being available. Resulting in a higher chance of supporting every device you attempt to use with it. Epson V600 takes the win today from its predecessor, thanks to maintaining firm specifications and building on them further. While the other is nothing to scoff at it became obvious the newer scanner has all you need and much more.