Routers have become a common device in our households ever since the advent of affordable internet. With the recent expansion of WiFi devices, they've become even more entrenched into our homes. However, even the best models with updated firmware will run into issues. This is why today we will be giving your troubleshooting help for Motorola Surfboard SBG6580, a potent router for your home. These issues may stem from malfunctions, defective parts, connectivity problems, and other troubles. Now let us see what you can do to fix your Surfboard and get back to surfing the web.
Basic Troubleshooting for Motorola Surfboard SBG6580
Disable WMM and Power Save Support
Launch a web such as Internet Explorer, Firefox, Google Chrome, or any other browser, and then enter http://192.168.0.1 into the address box then go to the address. You will be sent to the login page, to proceed type in admin into the Username field, enter Motorola into the Password field and click the Login button. This will send you to the Home page, from here on you will be able to enter the Wireless tab and go to Wireless- Quality of Service sub-link. You will reach the Wireless- Quality of Service page from which you can configure WMM and Power-save. First, make sure to select Off on WMM support and Power Save Support and then press Apply. The effects are immediately applied. If this fails do not worry, there are other options.
Scan Wireless AP's and Change Channel
Go through the same motions as previous but from the Wireless tab select the 802.11 Radio sub-link to get to the Wireless- 802.11 Radio page. Select the Scan Wireless AP's button, this will show nearby wireless access points. Determine a channel you wish to control and take a pick from the Channel option's drop-down tab on Wireless- 802.11 Radio. After that click the Apply button.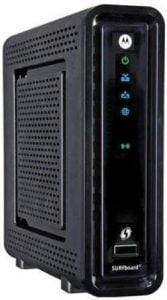 Factory Reset
Assuming you've attempted turning the router on and off with no resolution for your problem a different approach may be necessary. For this purpose, we have a factory reset option on the Motorola Surfboard SBG6580. The button is tiny and barely visible but can be easily found in the middle of the router, next to the USB port. To trigger a factory reset you will have to push it in for about 10 seconds, the indicator that the router has been reset is all of the LEDs turning off.  A factory reset clears all of the configurations and firmware changes you have done on the router since purchase. However, it will fix any issues that changes could have caused. If this doesn't remove any weird behavior your connection may have you'll have to try some of the following options.