Among the manufacturers of gaming hardware, Razer is one of the most recognized names. Their unique style, great quality, and colorful models make them stand out in any setting while providing you with the gaming peripherals you require. Although the number of models present can make it harder to pick out which item you should purchase. Today we are looking into Razer Seiren X vs Razer Seiren Pro, reviewing their strengths as well as weaknesses to provide an educated suggestion on which of the two you should purchase.
Razer Seiren X vs Razer Seiren Pro – Similarities
Quick Glance
| | | |
| --- | --- | --- |
| Name | Razer Seiren X | Razer Seiren Pro |
| Image | | |
| Dimensions | 4.1 x 7.72 x 8.43 inches | 4.7 x 4.8 x 11.8 inches |
| Weight | 12.8 ounces | 13.44 ounces |
| Colors | Black, quartz, mercury | Black, white |
| Frequency response range | 20 Hz – 20 kHz | 20 Hz – 20 kHz |
| Sound Pressure Level | 110 Db | 120 Db |
| Sample Rate | 48 kHz | 192 kHz |
| Polar Patterns | Super-cardioid | Cardioid, omnidirectional, bidirectional, stereo |
| Bit Rate | 16 bit | 24 bit |
| Impedance | 16 Ohms | 16 Ohms |
| Price | | |
Frequency response
One of the deciding factors of sound quality is the frequency response range. In terms of their impact, the lower frequency discerns the quality of bass that can be reproduced while the high-end frequency showcases the treble the item is able of reproducing. When it comes to the two Seiren models we have today they both share 20 Hz low-end quality and 20 kHz high-end quality.
Differences Between Rayer Seiren X and Razer Seiren Pro
Connectivity
This category describes how the device interfaces with other devices.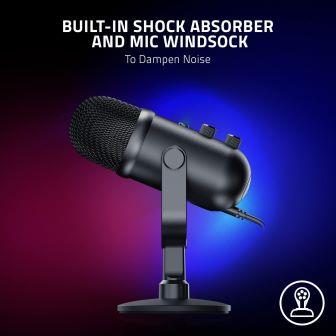 Razer Seiren X
For this model, connectivity is rather straightforward. It utilizes the USB port and plugs for a quick and simple connection.
Razer Seiren Pro
The Pro version of Seiren gives us a bit more connectivity options. The first one is a general USB connection which allows for simple interfacing. The second option is the XLR connection, which takes more setup. The utility of having XLR as an option is that you can always extend your audio capabilities with an audio interface device but if you don't want to bother with getting another device the USB connectivity is always there.
The Winner: Razer Seiren Pro
Read next – Razer Seiren X vs Blue Yeti: Which USB Microphones are Better?
Max SPL
The sound pressure level provides our microphone with the power to record higher volume sounds as it directly correlates to its capabilities of recording said sound.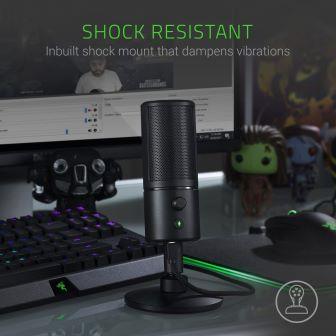 Razer Seiren X
The Seiren X model from Razer is a rather standard device overall, as we've seen in the other categories. In the sound pressure level department, it achieves a somewhat middling 110 dB.
Razer Seiren Pro
The Pro variant of Seiren provides some nice upgrades to the given sound pressure level of the other model. It bumps up the present 110 dB sound pressure level up to 120 dB.
The Winner: Razer Seiren Pro
Patterns
The patterns of a microphone decide which area it covers while recording. These usually help eliminate noise from certain directions or emphasize one in a specific area.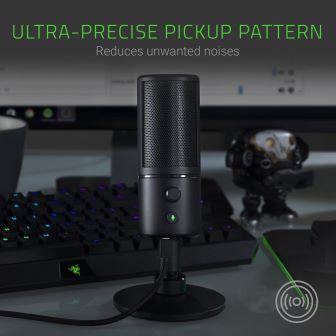 Razer Seiren X
The first Razer model on review doesn't follow the usual cardioid pattern, which emphasizes a front-facing part of the microphone. Instead, the item utilizes a super-cardioid pickup pattern. This causes the sound to be recorded at a tighter angle and reduces unwanted background noise.
Razer Seiren Pro
Unlike the previous model, Razer Seiren Pro has a multitude of patterns to choose from. Standard cardioid pattern, which is great for regular front-facing recording. Bidirectional, perfect for situations where two people are talking into the same microphone such as dialogue videos. Omnidirectional, perfect for when you need to catch sounds from all around the microphone. This can be useful for podcasts, family calls, or any other call where multiple people from your side are partaking in so you don't have to fight for microphone space. There's also a stereo option which is more useful for specific cases where you need to record layered sounds. It doesn't possess a super-cardioid pattern which Seiren X boasts, which improves front-facing reception, making it contextually more useful but for simple front-facing recording, it is pretty standard.
The Winner: Razer Seiren X
Sample Rate
The quality of sound can further be improved by its sample rate which determines how often the microphone will update the signal. This improves the clarity of sound that's being recorded.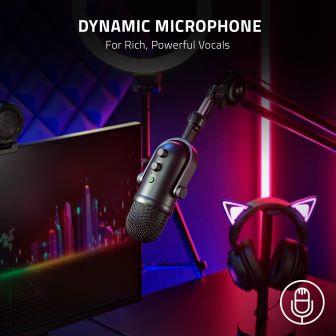 Razer Seiren X
The sample rate of Razer microphones is overall really good. It is no different for the Seiren X model with its 48 kHz sample rate.
Razer Seiren Pro
Following the previous model, Razer Seiren Pro showcases some potent sample rates. It improves the already decent 48 kHz sample rate by pushing it up to 192 kHz, allowing for a lot clearer sound.
The Winner: Razer Seiren Pro
Appearance
This category covers the style and functional design of the models. Anything from shock-absorbing design to color selection is covered here.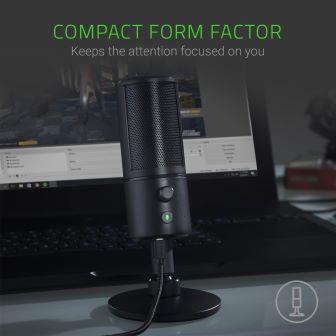 Razer Seiren X
The design of the Seiren X model is rather durable. It is also very good at resisting any accidental bumps, keeping the internal parts of your device safe. The overall design is pretty simple but to add some flair we've three color options on offer. These are black, quartz, and mercury.
Razer Seiren Pro
The Pro version of Seiren has a very simple cylindrical shape while keeping the high-quality design of similarly named models.
The Winner: Tie
Pros and cons
Razer Seiren X
PROS
Good SPL
Shock absorption
Decent frequency response range
Good sample rate
CONS
Razer Seiren Pro
PROS
A variety of pattern choices to pick from
Great sample rate
Decent frequency response range
Shock absorption
High SPL
Can be connected with XLR and USB
CONS
No specialized front-facing pattern
The Final Verdict
In terms of power, both Razer Seiren X and Razer Seiren Pro offer some enviable specifications. Some of their specifications surpass standards the industry has set while others fulfill those standards effortlessly. However, when it comes to two of them butting heads we quickly see Pro surpassing the options on Seiren X's field. Be it sound pressure level or sample rate this device will surpass both Seiren X and a big number of microphones on the market right now. This makes Razer Seiren Pro the winner of this comparison, offering superior specifications and a great user experience.