In the field of audio equipment, we often see two types of microphones butt heads. These are XLR and USB microphones. The benefits and downsides are plentiful for either side. To put them into firm context and give you a suggestion on which you should go for if looking for a new microphone we will look into Audio Technica AT2035 and standard Blue Yeti microphone. The strengths and weaknesses of both these will be elaborated on, compared to each other, and give us an answer as to which of the two is more useful overall.
AT2035 vs Blue Yeti – Similarities
Quick Glance
| | | |
| --- | --- | --- |
| Name | Audio Technica AT2035 | Blue Yeti |
| Image | | |
| Weight | 14.2 ounces | 45.12 ounces |
| Dimensions | 9.75 x 9.75 x 2.75 inches | 4.92 x 4.72 x 11.61 inches |
| Color | Black | Blue, silver, black |
| Connectivity | XLR | USB |
| Bit rate | Dynamic | 16 bit |
| Sample rate | 192 kHz | 48 kHz |
| Frequency response range | 20 Hz- 20 kHz | 20 Hz- 20 kHz |
| Impedance | 120 ohms | 16 ohms |
| Max SPL | 148 dB | 120 dB |
| Polar Patterns | Cardioid | Cardioid, omnidirectional, bidirectional, stereo |
| Price | | |
XLR vs USB Microphones
Discussion about microphones rarely goes by without deciding whether to go for XLR or USB microphones. You'll find a variety of takes but a few overall important bits of information remain standard. First, USB microphones connect directly into the computer and interface with the device without any additional devices necessary. For XLR though you'll require an audio interface as a way of connecting the microphone and the computer. This is done for the sake of converting an analog signal into a digital one. Secondly, it does give a lot more variety to configurations and control of ongoing recording to own an audio interface. However, it does come with the price of having to purchase two devices. For this following article though we will be specifically looking into the specifications of the two items on offer, assuming you are ready to dedicate your resources for XLR if it gives you enough of a boost in specifications.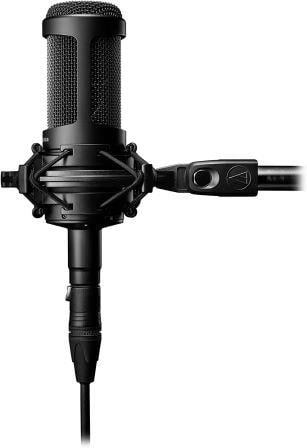 Frequency response range
When it comes to sound quality it is very important to cover as many frequencies as possible for maximum reproduction quality. In this department frequency response range plays a very important role as it showcases how low and high are the frequencies which the audio device can reproduce.  The two models we are looking into today share a frequency response range of 20 Hz minimal frequency response and 20 kHz maximum frequency response. These are very decent specifications for both reproducing bass and treble of recorded sound.
Differences Between AT2035 vs Blue Yeti
Polar patterns
The patterns of your device decide the area it records sound from. One model can have multiple patterns which you can switch between.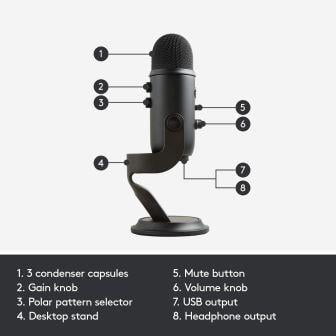 Audio Technica AT2035
As far as AT2035 is concerned there's only a single pattern it employs and that is cardioid. The cardioid pattern provides coverage of a certain radius in front of the microphone. This sort of audio recording is most frequent and especially useful for those who wish to ignore as much background sound.
Blue Yeti
With this item, you can expect a major amount of patterns. The Blue Yeti model comes with cardioid, omnidirectional, bidirectional, and stereo patterns. The usefulness of variety comes into play if you are somebody who utilizes a microphone for multiple types of recording. The omnidirectional and bidirectional patterns are great picks for people who record in groups. Omnidirectional recording records in a full circle around the microphone while bidirectional records from the front and back of the microphone. As for stereo, it is a more specific pattern which you'll mostly use for layered sound.
Sound Pressure Level
The sound pressure level as a microphone specification relates to the maximum level of sound the device can record without any distortion. It improves the clarity of sound for sounds even when the volume gets louder.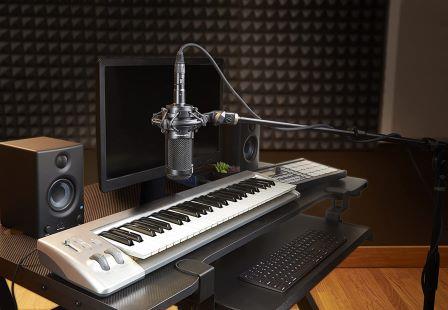 AT2035
As far as this XLR microphone goes the SPL provides a heavy return on investment. Its SPL is 148 dB which is decently higher than the industry standard. The other specifications work well with SPL as well, improving the overall quality of sound.
Blue Yeti
In terms of SPL, Blue Yeti has a decent amount at 120 dB. It is visibly lower than AT2035's but still gets the job done for the money put in. However, you will experience a fair amount of distortion if you reach higher volume sounds.
The Winner: AT2035
Appearance
AT2035
The design of AT2035 is very simple but stylish. The item itself has a custom shock mount which provides superior isolation. AT2035 has a large diaphragm for smooth, natural sound, as well as low noise. The model is also very convenient to mount in a lot of positions, mounting peripherals can be obtained from the same manufacturer.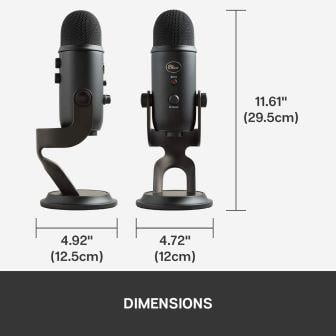 Blue Yeti
The design approach to Blue Yeti is very simple. It has a cylindrical shape with a few knobs and buttons across its body for instant modifications of recorded volume. As far as durability goes the item does boast a robust design, on top of being very convenient for a variety of mounting styles. There are some color options but they are limited to blue, black, and silver.
The Winner: AT2035
Read next – Razer Seiren X vs Blue Yeti: Which USB Microphones are Better?
Pros and Cons
Audio Technica AT2035
PROS
High SPL
Good frequency response range
Large-diaphragm
CONS
Blue Yeti
PROS
Variety of patterns to choose from
Decent SPL
Robust design
CONS
The sample rate is just ok
The Final Verdict
Utilizing a lot of great technology both Blue Yeti and Audio-Technica brought us very reliable and high-quality microphones. The overall utility is apparent but there is a lot of back and forth in terms of their strengths. In terms of concrete quality, we can see AT2035 achieve some very impressive numbers on its specifications. This doesn't even cover several useful features it comes equipped with, allowing you to modulate the experience for maximum efficiency and quality. Of course, Blue Yeti has a decent amount of its strengths, as we've seen in the pattern category. By the end, Audio Technica AT2035 has hit a lot more highs than Blue Yeti did. This makes it our suggested pick for today and even though it requires some additional investment as well as set up they will be worth the result.