Looking for best TOZO earbuds ( T6 vs T10 ) ?
The advent of wireless audio devices has completely changed the industry. Be it headphones, speakers, or earphones wireless capabilities give these devices a lot of conveniences. Of course, some stand-out members of these groups provide more quality for their price than others. For earphones, these are Tozo's T series of earphones. The two we will take a deeper look into today are Tozo T6 vs Tozo T10 Bluetooth wireless earbuds. We will go over their strengths and weaknesses, compare them, and give you a suggestion on which of the two is the better purchase option. Tozo T6 and Tozo 10 has as much as 500,000+ amazon positive reviews as of December 2022 and they are one of the cheapest earbuds available in the market today.
Tozo T6 vs T10 – Similarities
| | | |
| --- | --- | --- |
| Name | Tozo T6 | Tozo T10 |
| Image | | |
| Weight | 0.1 ounces | 0.1 ounces |
| Dimensions | 0.59 x 0.79 x 0.59 in | 1.04 x 0.99 x 0.66 in |
| Color | black, white, rose, and gold | black, gray, white, and khaki |
| Water Resistance | IPX8 Waterproof | IPX8 Waterproof |
| Battery life | 6 hours | 3.5 hours |
| Battery life with charging case | 30 hours | 9 hours |
| Frequency | 18 Hz-20kHz | 16 Hz-20kHz |
| Bluetooth Version | 5.0 | 5.0 |
| Bluetooth range | 25-40 feet | 25-40 feet |
| Charging | USB, wireless | USB, wireless |
| Price | | |
Charging case
A special addition to these earphones is their very own charging case. It functions both as a power bank and storage for your earphones. The amount of battery life you can get out of them varies per model but nonetheless, they provide ample expansion of your battery life.
Water resistance
Both of these models have IPX8 waterproof capabilities. Earbuds as well as the charging case have an inner nano-coating which makes it waterproof up to 1 meter of depth for over 30 minutes. Any splashes of water or falling raindrops will be intercepted by this effective design trait, preventing damage to your device.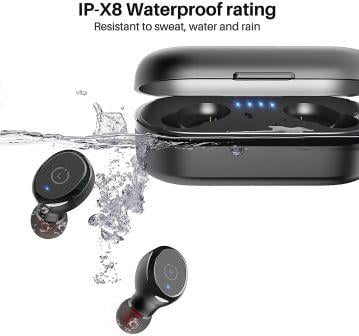 One-step pairing
The two earbuds pair up immediately after being removed from the charging case. From there on you need only do a quick connection with your phone to get them running. The convenience of this setup is one of the standards Tozo brings to the market.
Differences Between Tozo T6 and Tozo T10
Battery life
One of the most important aspects of all wireless devices is how long they can be used before requiring a recharge. There's no use in removing the wired connection if the device will have to get back onto the charger after a single hour of use.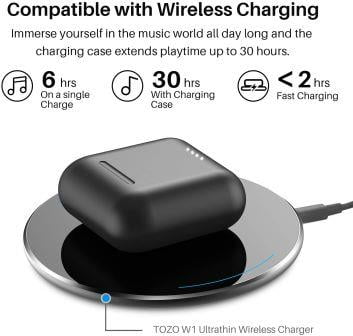 Tozo T6
The first Tozo model on review has a very impressive battery life for its category. Without any hassle this model's battery can last for up to 6 hours, covering any trips or walks you may go on. It is likely a single charge will last throughout your entire day but the long-lasting battery isn't the only good aspect of this product. Tozo T6's charging case, as we mentioned before, functions as a power bank. If necessary you can always charge up the earphones with this little storage item. The best part is that you can use wireless charging as well, maintaining the convenience of not having to take cables with you anywhere. You can still use a USB-C cable for a somewhat faster charge time but the usefulness of having multiple charging options shouldn't be underestimated.
Tozo T10
After a wider look at the charging case, we can see the utility it brings to these models. Just like Tozo T6, the T10 model boasts one of these handy storage cases. However, the max charge you can siphon out of it is far lower. It still gives a firm increase in your wireless enjoyment of music with 9 hours of an extended lifetime. Earphones alone last for about 3.5 hours each, which still affords a decent duration for your daily activities. The charging options remain, wireless and USB-C are both legitimate ways of filling up the earbuds' batteries.
The Winner: Tozo T6
Sound quality
While the battery is one of the key aspects of a wireless set of earbuds range of sounds reproducible by said earbuds is something important to any style of audio listening gear. There can be a lot of minute influences that improve or degrade the quality of an item but the following section will focus on some base specifications.
Tozo T6
Specifications that boost sound quality are aspects such as speaker driver size and frequencies the device can reproduce. For T6 the size of its speakers is 6mm, which gives decent sound quality in itself, while frequencies reproducible by earphones range from 18 Hz up to 20 kHz. As far as market standards go 18 Hz is slightly higher than the usual lowest frequency, which is good as this means more sounds can be properly reproduced into the soundscape, the upper limit of 20 kHz is simply standard but does get some mileage out of inherently good sound quality. Noise cancellation is in effect here as well, making sure to block out most of the surrounding noise.
Tozo T10
For the opposing model, we can immediately see some differences. The size of the speaker driver is now 8mm, which offers a firm improvement. What also got a proper upgrade is its lowest reproducible frequency. It is now 16 Hz, allowing for an even clearer bass. The upper limit didn't get any upgrades, remaining at 20 kHz. Noise cancellation is still in effect so you needn't worry about losing that fruitful feature.
The Winner: Tozo T10
Read next – Panasonic HJE 120 vs Panasonic HJE 125: Which Earbud Headphones are Better?
Appearance
The biggest difference between the two in terms of appearance is the color choice and size of their cases.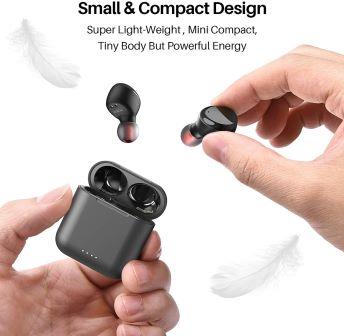 Tozo T6
The color options here are black, white, rose, and gold. Tozo T6's charging case is exceptionally compact, fitting into any pocket.
Tozo T10
For this model, you can pick from black, gray, white, and khaki in terms of colors. However, it is not as compact being almost twice the length.
The Winner: Tozo T6
Read next – Jaybird Freedom F5 vs Freedom X2: Which Wireless Headphones are Better?
Pros and Cons
Tozo T6
PROS
Long battery life
Compact design
One-step pairing
Good sound quality
CONS
Tozo T10
PROS
One-step pairing
Great bass
Good sound quality
One-step pairing
CONS
The battery can run out a bit too fast, make sure to have a charging case with you
The Final Verdict
The two models have their ups and downs, despite sharing some very potent traits. The huge battery life of T6 is very tempting even if it loses some sound quality in comparison to T10. On the other hand, T10's sound quality may be less important if you require a charge after half a day of use. The choice is pretty tight but in terms of convenience and battery life T6 does edge out T10. This is very useful for wireless earphones because their whole premise is offering more convenience to the user. Overall, Tozo T6 gets our suggestion today as an enjoyable wireless set to pick up.