The variety of users and choices in the headphones market is constantly expanding. In the last half a decade or so we have seen a rise in a particular brand of headphones. Namely, these are cat ear headphones. The most obvious trait they all share is cat ear addition to their design, usually, these additions have LED lights installed in them. Of course, while in most cases this feature is exclusively cosmetic some utilize it mechanically. Rare but most frequent use for them is speakers, as we will see in some of the lower examples.
What We Considered When We Pick the Best Cat Ear Headphones
The focus of these headsets and headphones is most often found in comfort. Although other characteristics aren't neglected either. As we go through them in the following reviews we will see reoccurring features that enhance comfort as well as allow for adjustments to better suit you. The sound options don't necessarily lack quality but depending on the focus of the headphones they can vary between good gaming headsets, good media headsets, or just simple music headphones. These headphones are made for both adults and kids so their configuration and control are very easy. Usually, the headphones possess buttons made to alter volume, switch tracks, answer calls, and other helpful functions. The following article has been made to compile a dozen headphones from this category, list their features as well as elaborate on them, and condense their positives in negatives in a few sentences. No matter whether you have decided on purchasing a pair and are looking for a guide or if you have got a faint interest in cat ear headphones, this article will help you.
 The Best Cat Ear Headsets Reviews
Denpetec Wireless Gaming Headset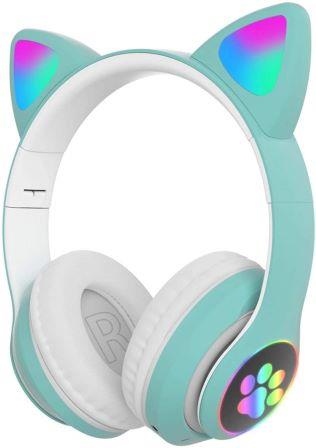 These cat ear headphones are very comfortable to wear. Courtesy of its adjustable headband and the pressure-relieving ear pads that are neatly packed onto the soft cushions on Denpetec's ear-cups. The cat ears themselves have LED lights built-in, with a fancy lighting pattern. Headphones utilize Bluetooth as well so connectivity with devices that support Bluetooth is a possibility. The headphones themselves are foldable and stretchable allowing for both easier storage when not in use and adjustability to your head shape. As far as battery life goes they will last you for about 7 hours with LED lights on. The battery is a rechargeable 400 mAh one so make sure to put it on the charger when you see it running out. The features on Denpetec's cat ears headphones include quick volume adjustments, song switching, call answering, Bluetooth playback, call replay, voice prompts, battery display, and much more.
PROS
Comfortable design
7-hour battery life
Numerous sound features
CONS
Aren't as durable as other entries
SOMIC G951S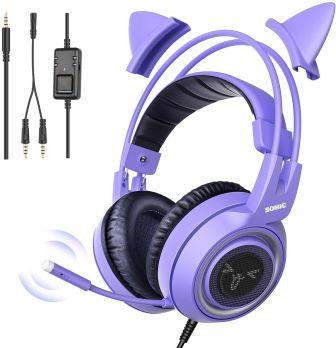 SOMIC's cat ear headphones provide detachable parts for easier maintenance and cleaning. Before we get to design let us take a peek into the sound specifications. It has built-in 40 mm high fidelity speakers, which can produce great sounds, excellent soundscape, proper immersive experience, and overall great sound quality. To add to that they have ambient noise-canceling, which reduces the outside interference and allows for uninterrupted enjoyment. This is partially made possible due to large earmuffs which are enabling this feature. The compatibility won't be an issue either because SOMIC G951S can connect to Xbox One, Nintendo Switch, PlayStation 4, personal computers, laptops, iPad, iPhones, and other devices. The design is properly executed with the omnidirectional microphone kicking it off. The omnidirectional microphone provides sound reception from any angle, making it very reliable for voice communication. The headband is self-adjustable while also remaining comfortable. The leather ear cushions with soft and skin-friendly design. The design overall is perfectly lightweight, avoiding the possibility of causing fatigue from carrying them for a longer amount of time. There are some color choices with the most popular ones being purple and pink.
PROS
Comfortable design
Highly compatible
Nice choice of colors
Great microphone quality
CONS
Higher volume may require some jack adjustments
Moveski BT-028C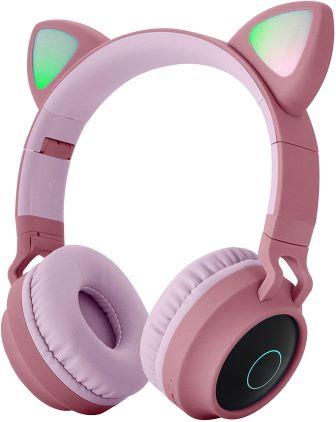 The Bluetooth wireless design provides high-level compatibility across the board. The colorful design makes it a cute accessory. The slider and softly padded headband allow you to modify the position of the headband that is most comfortable to you. Due to this design trait, you won't feel constricted by the headphones and still provide excellent durability. The color choices are very fresh as these headphones come in purple-rose, green-teal, and pink. In terms of battery the model provides a built-in 1050 mAh Li-ion battery, the long standby option allows for continuous music playback for over 65 hours. The isolation is properly done allowing for a calm and enjoyable experience. The low impedance of 32 ohms, 40 mm big moving coil, and aforementioned isolation provide exceptional sound.
PROS
Bluetooth connectivity
Wireless
Comfortable design
A battery that can last for over 65 hours
CONS
Bluetooth can have a second or two of lag
Ildlor Gaming headset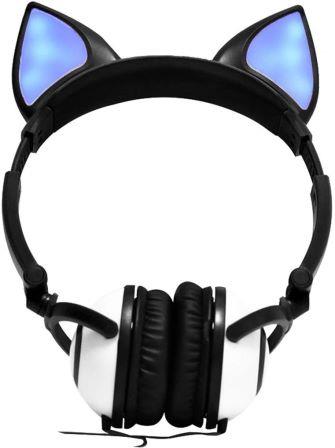 For a slimmer entry on the list, we have Ildlor's contribution with this black and green cat ear headset. It has a firm focus on gaming but can be applied to anything. Proper 7.1 surround sound provides a great base for the other specifications of the game. The high-quality speakers for gaming and audio-visual users, Ildlor covers it all. A versatile remote control for sound and microphone offers ease of control to the model. The choice of colors varies between frames and LED colors, some offers include black on blue LED lights, green with white LED ears, and a few other choices that share colors such as pink, purple, white, and blue.
PROS
Versatile remote control
Decent choice of colors
Focus on gaming
Good sound
CONS
Weaker lighting on LEDs, nonetheless good
MindKoo Cat Ear Headphones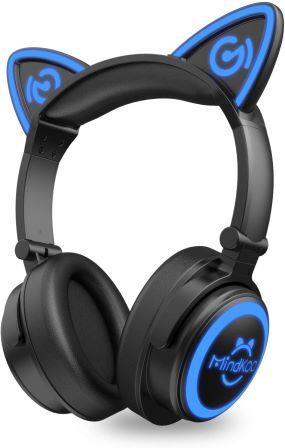 All of the lights on this model can be opted on or off. There is a total of four modes which are all lights on and flashing, all lights on, cat ears' light on and earmuffs' light on. The stylish LED lights aren't the only thing on offer. As far as design goes MindKoo provides comfortable soft cushions and adjustable headbands. The headband can be extended vertically or horizontally, fitting all head shapes, and large earmuffs make every size of ears feel comfortable in this set. The adjustability of its earmuffs also comes in form of them being able to rotate 90 degrees clockwise and 15 degrees anti-clockwise. The built-in microphone that's compatible with most smartphones, iPhones, tablets, iPads, and many other compatible devices. The battery life on these cat ear headphones lasts for 5 hours if all LEDs are on and 8 to 10 hours if they are off, although you can opt for wired if you don't have time to charge. All of this comes with 12 months of warranty and 24h e-mail customer service support.
PROS
Four light variations
Soft and comfortable design with a lot of moving parts
The battery lasts up to 10 hours
Both wireless and wired options
12 months of warranty
CONS
The max volume isn't that loud
Razer Kraken Kitty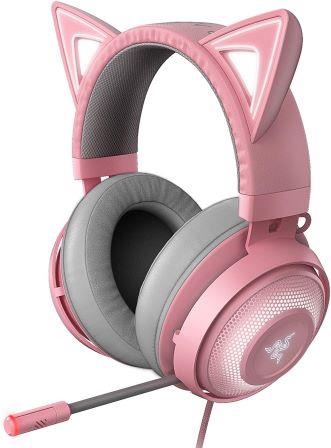 These cat ear headphones come in simple black and sparkling quartz colors. Of course, this only refers to the color of the headset itself. In terms of lighting, there are way more options. Razer Kraken kitty has Razer staple of variable RGB lighting which switches between millions of colors for the sake of a varied palette. If you are into streaming these headphones offer something special. The Stream reactive lighting responds to your audience's reactions and alerts. Streamer companion app makes the configuration of this feature way easier overall. The build of Razer Kraken Kitty is light and durable, perfect for those who use headphones for long periods or those who are on the careless side with their headsets. In addition to this, cooling-gel ear cushions maintain a comfortable temperature around your ears for maximum enjoyment. The sound features aren't forsaken either. Its noise-canceling microphone allows for crystal clear communication. On top of all these features, you get 2 years of warranty, as an extra treat and security.
PROS
Great sound
Razer RGB lighting gives a lot of colors to it
Noise-canceling microphone
Streamer Companion App engages your audience more
2 years of warranty
CONS
The microphone is a bit short
Brookstone Wired Cat Ear Headphones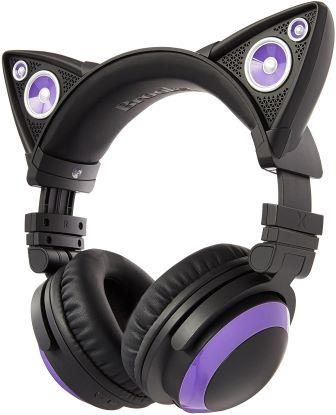 These over-the-ear headphones are perfect for listening to music privately. The cushioned ear cups conform to any head shape while blocking out background noise and letting you enjoy vibrant, high-quality sound. There's also the option to switch to speakers, which are located on cat ears themselves! This turns your headphones into a decently powerful sound system. The boom mic on this device is also detachable allowing you to put it on or off depending on your needs. While the headset itself is decisively black the LED lights have a nice choice of colors. Be it blue, green, purple, or orange you can light up your gaming and music time with this headset. The 40 mm drivers deliver good sound when using headphones and the 32 mm ones found in your speakers are just a bit less potent. In addition to all of these features, you get a protective carry case for safe transportation.
PROS
Cushioned ear cups
Powerful sound on headphones
Can switch to speaker function
The boom mic is detachable
Free protective carry case included
CONS
A bit too loose even when configured, can slip a bit during more sudden motions
ONIKUMA Gaming Headset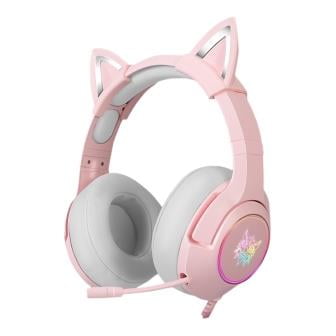 A heavily compatible headset with support for PS5, PS4, Xbox One, Nintendo Switch, personal computers, and many more. Although it is important to note some supported consoles will require an adapter, such as Xbox One, this is exclusively for LED lighting so the functionality isn't hampered. The microphone is also well equipped to maintain privacy during communication and allow for quick switching between on and off modes. The 50 mm driver in their speakers generates powerful surround sound to enhance your enjoyment of any media you are currently indulging. As usual, comfort is guaranteed with different head-shapes being accommodated due to its adjustable components, not to mention soft and sturdy memory foam which fills its ear pads that enable wearing them for long periods without hurting your ears. There are five adjustable sizes you can switch between. When you need to clean them or do any sort of maintenance you can detach the cat ears to make it easier.
PROS
Memory foam ear pads
Five adjustable sizes for headbands
Detachable cat ears for simple cleaning
50 mm drivers in speakers provide powerful sound
CONS
Some consoles require adapters for LEDs
Blinkee pink LED kitty cat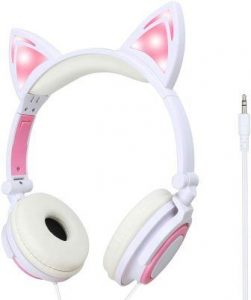 The Blinkee headphones come in as a slimmer option on the market. They are overall very simple in design while maintaining the cute appearance of cat ear headphones. The lights are activated by removing the pull tab and pressing the button behind the right ear. This allows for two functions, either still light or blinking light. The headphones do include a pre-installed, replaceable battery. They are wired so you won't have the same freedom of movement although its 56-inch cord will make it so you don't have much issue of moving while at the desk. The one size fits all approach is extensively prominent on these headphones. If you encounter any issues or malfunctions you can always contact customer support for expert help, it is located on the Blinkee site immediately in the down-right corner for ease of access and contact.
PROS
Two light options, still and blinking light
Simple activation and configuration
Long cord
One size fits all design approach
CONS
Don't have many audio features
Riwbox Bluetooth Headphones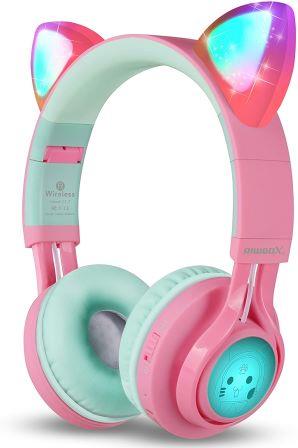 The multicolored headphones from Riwbox come in to further enhance the variety of lighting effects found on this list. The ears light up in multiple colors when turned on while headphones already have two cute colors to go around. They can be turned on and off depending on your current needs, this can be done by holding the M button for longer than 3 seconds. This can come in handy when using the wireless mode. Of course, switching between wired and wireless mode is another set of options you have with the Riwbox D1 braided audio cable. You can switch between songs or control volume with the fast options you've on your hands. Despite it being a perfect gift for kids and teenagers the potent 40 mm speakers make them a good pick for anybody who likes listening to music while having some flair to their peripherals. These headphones can reach quite a decent volume due to these powerful speakers. Do keep in mind that they aren't as adjustable or large as most of the other entrants, thus being best for either kids or those who've smaller head shapes. The user manual is also included so figuring out the full functionality of the item will be simple.
PROS
Great sound
Colorful LEDs
Simple configuration and customization of sound
A decent number of functionality options
CONS
On the smaller side, not comfortable for people with bigger heads
Conclusion
While going through these cat ear headphones we've seen a lot of different manufacturers take a shot at this idea. From the original trendsetter Brookstone to some new age favorites, all have been covered. There's a reason these became a hit with streamers what with all the quality and customizability on display. Although streamer or not it is always fun to accessorize your equipment and indulge in a bit of LED fun. These headphones all make for a great gift for people of all ages, they are both useful and interesting. If you look into the specifics of these headphones you'll find all you need. Be it extensive insurance on your purchase through warranty and 24h customer support, variety of color options, supportive features, or simply proper sound you will find your fit in this list. The quality is present, it is up to you to pick up a pair that you fancy.