Microsoft's Xbox has been one of the leading brands in the video game console market for a very long while now. Ever since the early 2000s, the name has grown and provided the gaming populace with various consoles as well as plenty of beloved titles. Be it older generations or current ones all consoles have a great number of dedicated owners, with no doubt even greater game catalogs. No matter whether you are sticking to older ones due to their bigger catalog and specific, non-backward compatible titles or gaming on newer ones with their own additions you may end up finding yourself in a slightly troublesome situation.
Namely, lack of storage space on your console. This is the eventual problem all devices in our possession face from consoles to something as simple as a music player. To help you rectify this issue we will provide a list of the best hard drives for Xbox 360. Disks can range from fast to slow, high in storage or potent as transportable device, game stocking behemoths, or simple side storage for all of your Xbox located media. The mix of devices that support older models as well as those that are made for newer ones will cover you no matter which one you have in your possession right now. Ones that support only Xbox360 and its models will provide direct help in terms of added storage while those that support both new and old console models provide a quick as well as a reliable way of transferring any side data you may have.
QUICK Glance on Xbox 360 Hard Drives
Best Hard Drive for Xbox 360
Official Xbox 360 Replacement Hard drive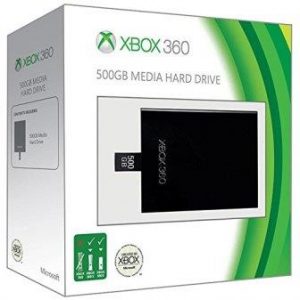 A standard hard drive branded by Microsoft themselves. The hard drives come in 320 GB and 500 GB options. These hard drives allow you to install games as a way of reducing game loading times. Of course, this isn't the only use for it as you can use it to store various media such as movies, music and more. You are also able to store game data, Xbox LIVE profile info and soundtracks. It is compatible with the Slim option of Xbox 360. Older models are not compatible with this official hard drive, which does pose a slight issue. However, if you possess updated versions of the console you will not be bothered by this limitation and have yourself a proper Microsoft branded hard disk drive.
PROS
Official Microsoft branding
Supports Xbox 360 Slim and E versions
Can store various files
CONS
Not compatible with older models
TOMSENN Internal Hard Drive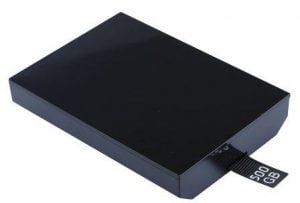 For those who need a hard drive hard disk for their Xbox360 E and Xbox360 S Slim edition consoles, TOMSENN has just the right thing. Game discs can be installed directly onto the hard drive to ensure quick loading of your games. You can download stuff straight from Xbox LIVE. This includes games, demos and extra content such as DLC. Just attaching this hard drive will increase your console's memory capacity, offering proper support for your investment. This HDD will provide in that department with 500 GB of additional space for saves, movies, music and other media.
PROS
Supports Xbox360 E and S Slim edition consoles
Downloads straight from Xbox LIVE
Perfect upgrade to current storage
CONS
A moderate amount of space provided
Nextec Xbox360 Fat Hard Disk Drive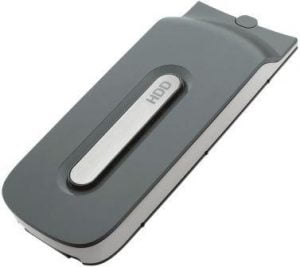 Compact HDD with a variety of choices for size, which may be its biggest strength. A simple 120 GB boost is what this model has on offer but do not be distracted by seemingly low storage size. It is very good for storing side media such as movies and soundtracks. Not to mention its somewhat small size provides a great way of downsizing your media catalog's physical space. The maximum capacity you can get from one of these is slightly below the noted size as some storage is used for dashboard files. Nextec also offers 1-year replacement warranty with your purchase of these hard disk drives.
PROS
Great for additional media and DLCs
Year of warranty
Compact size
CONS
Only works on older models
Seagate Game Drive Designed for Xbox360 and One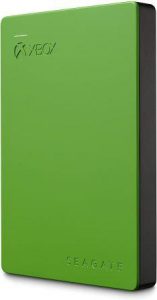 A significant increase to your Xbox360 and One comes in the form of Seagate's game drive portable hard drive. With a whopping 2 TB of memory, you'll have more than enough space to go around for even the fattest of video game files. With this you won't have to worry much about deleting games when your storage runs low as this hefty hard drive can hold over 50 video game titles, assuming all of them being of considerable size. You needn't worry about lag when it comes to this device as this drive has been optimized for Xbox with whopping 140 megabytes per second read speed. Matter of connectivity is of no issue either as quick step by step setup enables quick plug and play USB 3.0 connectivity without any need for a power cable. The number of choices in terms of design are also commendable, especially if you are keen on customizing your device. To cover any worries of malfunction Seagate offers 1-year limited warranty and 1-year rescue service.
PROS
Massive storage space at 2 TB
Easy setup
Two years total of rescue services
Decent choice of designs
Fast read speed
CONS
Can heat up easily, keep out in the open
WD Elements Portable External Hard Drive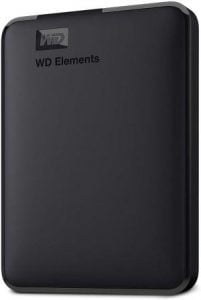 The exceptionally compact WD portable hard drive has measurements that make storage a breeze. With slightly more than 3 inches of height and 4 inches of width, it is proper high memory storage carrying yet easily stored model. Its sleek, lightweight design isn't the only positive trait it possesses. The device has both USB 3.0 and USB 2.0 compatibility, allowing you to plug up your console's files into other devices. Speaking of consoles, the drive is compatible with Xbox360 as well as the launch, S and X model of Xbox One. The one terabyte of storage is a simple but potent boost to your console's storage capacity. The compatibility with newer Xbox models also provides a quick way of transporting your data to the newer console generation. Keep in mind that it will get configured automatically by your Xbox console as long as you follow simple steps for setup. Its read speed is 100 megabytes per second and delivers a maximum 3.0 USB performance.
PROS
Exceptionally lightweight
Compact
Compatible with Xbox360, Xbox One, Xbox One S, and Xbox One X
Huge storage capacity
Good read speed
CONS
USB cables provided can cause disconnects
Toshiba Canvio Gaming External Hard Drive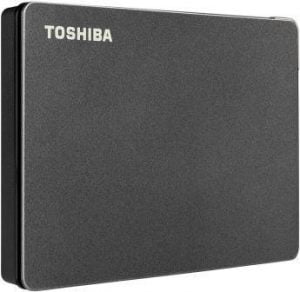 Toshiba's addition to the external hard drive category comes in the form of this gaming specialized hard drive. It has a choice of options in terms of size but its 1 TB variant offers ample storage space and reliability. With it you can put up to 50 games on the side to maintain a less cluttered internal storage for your console. The hard drive is customized to be used for gaming with its "Always On" mode, which response to your gaming activity. This model is compatible with both Xbox and PC which makes it perfect for any files you wish to share between the two. Original soundtracks, custom soundtracks, movies, videos, captures, save data and anything else you can slot onto its storage can be shared between compatible devices. The design itself is rather sleek and compact which makes it decently transportable. Storage isn't the only thing that'll last you a while as this model does have a decently long warranty with its 2 year-long duration.
PROS
Lots of storage space
Optimized for gaming
Compatible with Xbox and PC
2 year-long warranty
CONS
The USB connector can be slightly wobbly, although not much
WD Black 2 TB P10 Game Drive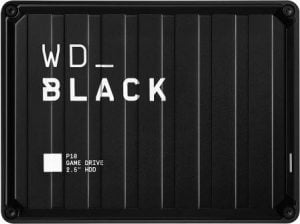 WD's another entry on the list this time coming in with 2 TB of storage. The drive is made out of portable and durable form factor that provides fast access to your gaming library on the go. The HDD is very high-performance and allows for an optimized gaming experience on both consoles and PC. Black quality and reliability is heavily reinforced with this model and allows for limitless gaming. The drive is easily transportable which is always good to have. Your Xbox games and files can now be transported between longer distances with little worry of being damaged. The HDD comes with whole 3 years of manufacturer's limited warranty so even if some harm does come its way you can rest assured that it will be covered properly.
PROS
Huge storage capacity of 2 TB
Easily transportable
Allows for optimized gaming
3-year warranty
CONS
Can be on the loud side, some humming can be heard
U&D storage compatible for PC and Consoles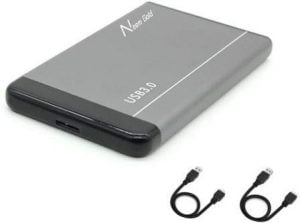 This hard disk drive provides a high amount of compatibility. In both the PC and console sphere, you'll have tons of devices you can use this on. For PC supported operating systems include Windows, Mac and Linux. Consoles that this hard disk drive supports include Xbox One, Xbox 360 and PS4. Storage space on this drive is 750 GB which isn't as much as some of our other entries but definitely a significant increase regardless. Portable casing made out of ABS plastic and metal ensures greater impact resistance, strength and stiffness. Ultra-lightweight components and small size also make it properly portable. Very fast data transfer with theoretical 625 megabytes per second speed allows a great transfer of data. This is perfect for those who frequently transport data from one device to the other.
PROS
A lot of compatible devices
Fast data transfer
Portable, high-quality casing
CONS
Somewhat mediocre storage capacity
Sengert 2.5" Portable External Hard Drive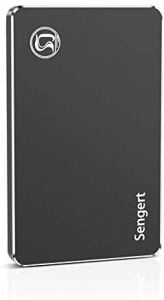 The metal design on this item is merely 0.4 inches thick and made out of aluminum. Shockproof, anti-pressure and pocket-sized this hard drive is exceptionally well made for storage and transport of data. The system is compatible with Windows, Mac, Linux, Android OS, Xbox One and Xbox360. Another high compatibility hard disk drive situation here, this time providing us with access to more operating systems. Those who own Mac and Linux will find a simple to use and reliable for transport hard disk drive in this Sengert model. Although proper quality is present on this device warranty is always welcome. To be more specific, you get 3 years of warranty with this item.
PROS
Very thin design
Shockproof casing
Pocket-sized hard drive for easy transportation
3 years of warranty
CONS
Not very fast, great as an add-on
Conclusion
That about wraps it up for our choices. As we've seen there's no lack in diversity of uses. Speed, storage space, and use are all accounted for within these picks. Before proceeding with your purchase make sure to gauge what you require, and obviously what console you need it for. Nextec covered old consoles with a great choice of supplementary media storing HDD, we all know how much information accumulates on devices that have been used for a long time. If you like that recognizable brand safety there are always official HDDs from Microsoft themselves. TOMSENN and U&D entries provide potent ways of creating a catalog of more medium-sized files. This could be demos, indie games, or just less storage hogging video games in general. WD disk drives, as well as Sengert one, have us covered for any transportable needs. If you are traveling a lot or like taking data straight to your friends and family these would do the trick. For sheer size, we have Toshiba and Seagate who have grand space to allocate items on. There's some overlap between them as they are all high-quality hard disk drives. In the end, any of these will do for the simple act of storage, even lower capacity ones, and provide you with a solution to your lack of console storage no matter what your Xbox model requires.