Even when you have decided to replace old bulbs with LED lighting, there is still a large selection of lightbulbs to choose from. We are going to look at the BR30 vs BR40 to decide which meets your specific needs. We have collected these information from their technical specification and user reviews which is valid for year 2023 and going forward.
BR refers to the shape of the bulb. A bulged reflector shape is good for general lighting in homes and offices because it spreads the light evenly across space. As they are LED lights, they might be more expensive initially, but the general rule is they will have paid for themselves within a year or two. They have much longer lifespans compared with incandescent light bulbs, and they use less energy.
The main difference between the BR30 and the BR40 is the size. This then has a knock-on effect with the spread of the light. Let's take a quick look at these light bulbs' specifications.
BR30 vs BR40 LED Lightbulbs – Side by Side
| | | |
| --- | --- | --- |
|   | BR30 | BR40 |
|  Image | | |
| Height | 5.03 inches | 5.59 inches |
| Width | 3.74 inches | 4.75 inches |
| Average Brightness | 800-1100lm | 1200-1400lm |
| Average Watts | 9W | 15W |
| Incandescent Equivalent | 65W | 75W |
| Price | | |
The BR30 and the BR40 are both screw-in lightbulbs (compared with the MRs that have two pins). The size difference is only with the lightbulb itself. If you are using these bulbs in ceiling cans, the BR40 is going to take up more space in the can whereas the BR30 will sit in the cup a little deeper. Bearing in mind, if you have 4-inch cans, your only option is the BR30.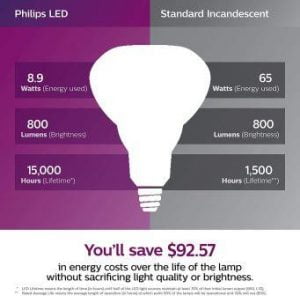 Generally speaking, the BR40s have a higher wattage, they will be brighter. Although the beam angle can often be the same, because of the wider surface area on the BR40, the spread of light will be larger. If you have low ceilings, the BR30 will be more suitable. If you are looking for dimmable lights, the B30 is recommended.
Read next – BR30 vs A19 LED Light Bulbs – What is the Difference?
BR30 vs BR40 Key Differences and FAQs
BR30 vs BR40 : Which light bulbs are more brighter?
One of the main differences between BR30 and BR40 bulbs is their brightness level . BR40 light bulbs are known to be brighter than BR30 bulbs, which means they produce more light. This can be an advantage if you need a lot of light in a large space, but it can also be a drawback if you're trying to save energy. BR30 bulbs, on the other hand, are more energy efficient, which means they use significantly less electricity to produce the same amount of light and brightness .
BR30 vs BR40 : Which light bulbs have longer life ?
Another key difference between these two types of bulbs is their lifespan. LED bulbs are known for their longer lifespan, but BR40 bulbs tend to have a slightly longer lifespan than BR30 bulbs. This means they'll need to be replaced less frequently, which can save you time, money and headache to replace it often in the long run.
BR30s and BR40s on the Market Today
Although LED lights are more expensive, it is best not to go for the cheaper brands. Read the package carefully because low-cost brands may not have the same lifespan as better-known brands. We looked at the Philips BR30 and the Philips BR40.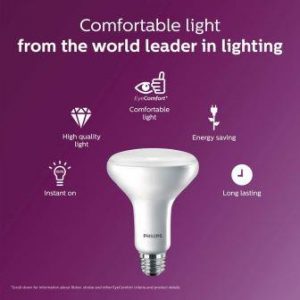 Philips BR30
You can choose from a pack of 8 or a pack of 12. They are 11W lightbulbs with 650lm. The average lifespan is 10,950 hours. The beam angle of the Philips B30 is 110º. At 2700K, they provide a soft white light. These LED bulbs are perfect for flicker-free dimming.
Philips BR40
This pack of 6 is slightly more expensive but uses just 8.9W of energy. It has 800lm and 5000k, so a crisper, brighter light at a 90% beam angle. The average lifespan is 15,000 hours. As well as being dimmable, they have CRI 90. CRI of close to 100 is going to make colors more vibrant.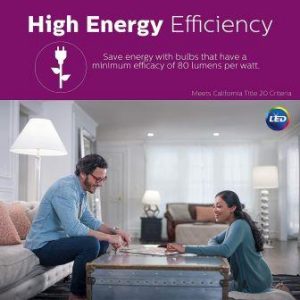 The Final Verdict
Per bulb, the Philips BR40 is approximately $2 more expensive than the Philips BR30. We felt it was worth it for the brighter light, enhanced colors, and longer lifespan. The beam angle is less on paper but remember that the spread of light will be wider because of the larger surface area.