Ever since TVs became a key part of our households the struggle for good signal and more channels. The struggle is most often solved through a lot of fiddling with your rabbit ear antenna. However, in today's market, we have new and refined devices for this purpose. The ClearStream antennas with loop design will be our subject of interest today, specifically the 4V and 4Max models. We will take a look at Clearstream 4V vs 4Max, how they enhance the strengths of antenna use while simplifying or outright removing the fiddling that comes with them. On top of that, this article will summarize their strengths and weaknesses before providing a sure suggestion on which of the two you want for your home.
Clearstream 4V vs 4Max – Similarities
Quick Glance
| | | |
| --- | --- | --- |
| Name | ClearStream 4V | ClearStream 4Max |
| Image | | |
| Size | 21.4 x 5.1 x 12.2 inches | 31.3 x 3.8 x 17.5 inches |
| Weight | 6 pounds | 3.1 pounds |
| Antenna Ranges | 50, 60, 70 miles | 35, 40, 60, 70 miles |
| Picture Quality | Full HD 1080p, 4K | Full HD 1080p, 4K |
| Reflector | Yes | No |
| Beam Angle | 43 degrees | 45 degrees |
| UHF | 13.2 dBi | 11 dBi |
| VHF | 4.0 dBi | 2.5 dBi |
| Frequency Range | 470 – 700 MHz | 470 – 698 Mhz |
| Warranty | Lifetime warranty | Lifetime warranty |
| Price | | |
Impedance
The 75 ohms impedance necessitates the use of a coax cable to connect it with the other items.
Antenna Range
Both of these antennas top off at 70 miles at the most expensive option. This will provide you major range no matter your location.
Whole-home ready
Upon installing either of these antennas you will be able to connect multiple TVs to it. By providing a cable for them to communicate through you are obtaining the ability to solve your antenna needs with a single item. Be sure to install the antenna itself on a high-up place, either a roof or attic, to reduce interference from other devices and walls. Even though the range of the antenna is huge it will be heavily hampered by these elements.
Antenna Point App
One of the biggest qualms people have about using an antenna is that it often requires adjustments. This most frequently comes in the form of orienting the antenna to the desired tower being either pure guesswork or extremely tedious. Another common issue is not knowing what channels each tower provides without trying them out. However, with Antenna Point App, ClearStream antennas manage to counteract this significant downside. The app makes aiming your antenna easy. You can view all the TV transmitting towers and the list of TV channels that are available on them. This allows quick setup and information gathering for less hassle overall.
Comprehensive Guarantee
The ClearStream boasts the quality of their products and services to such an extent where they offer a guarantee on all of their antennas as well as all parts included.
Differences Between ClearStream 4V and ClearStream 4Max
Frequency Gain
Both antennas have UHF and VHF support, being able to pick up free, over-the-air television from both of these frequencies.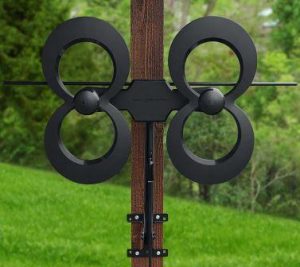 ClearStream 4V
From this antenna, you can expect a UHF gain of 13.2 dBi while the VHF gain is 4.0 dBi.
ClearStream 4Max
The 4Max antenna provides 11 dBi of gain on UHF frequency while its VHF gain is 2.5 dBi.
The Winner: ClearStream 4V
Read next – Clearstream 2V vs Clearstream 2 Max: Which Antennas are Better?
Beam Angle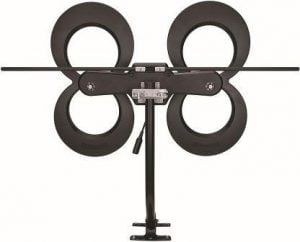 ClearStream 4V
The beam angle on this device is 43 degrees, on top of that, it has a frequency range of 470 to 700 MHz.
ClearStream 4Max
As for this item, it has a 45 degrees beam angle and a frequency range of 470 to 698 MHz. A very minor difference.
The Winner: Tie
Read next – Clearstream 4V vs Clearstream 2V: Which Antennas are Better?
Appearance
The antennas on display today are made with the loop design. This design makes them more potent in their role.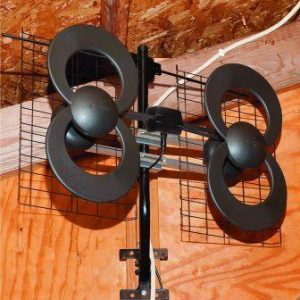 ClearStream 4V
In terms of physical dimensions, this antenna has sizes of 21.4 x 5.1 x 12.2 inches and a weight of 6 pounds. The antenna is comprised of a rod that keeps the loops and reflectors. The loops have mesh in the back along with the usual segments and the reflector enhances the signal from the front while lowering the quality of other directions' signal.
ClearStream 4Max
4Max antenna has the same rod and loops but without reflector and mesh, which improves omnidirectional reception. As for its dimensions they are 31.3 x 3.8 x 17.5 inches with 3.1 pounds of weight. A way more lightweight setup.
The Winner: ClearStream 4Max
Pros and cons
ClearStream 4V

PROS
Higher gain on both UHF and VHF
Loop design
Companion app locates TV towers
Can connect multiple TVs
CONS
Omnidirectional reception isn't as good
ClearStream 4Max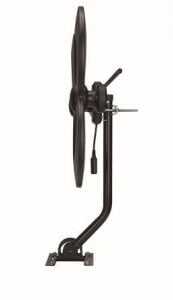 PROS
Lightweight
Loop Design
Can connect multiple TVs
Companion app locates TV towers
CONS
Has weaker signal overall
The Final Verdict
Similarities and scant differences between the antennas make it hard to discern which is the better of the two. The beam angle is very similar and relates mostly to where your antenna's receptors are the most powerful. We've seen frequency range's similarity with only two MHz difference overall. The frequency gain, however, is a whole different story. In this department, we see 4V reign supreme properly with higher UHF and VHF gain. Overall support for simplifying free TV location without any guesswork so they share reliability in this department.
The 4Max is a lot lighter which makes it easier and safer to set up higher up. The real breaking point comes in terms of gain and reflector. The reflector is more of a preference thing because it has the upside of front-facing signals and downside of lessening other signals. The companion app does make it easier to direct the front part towards the tower so reflector issues may be neglected. All in all, 4V has better gain and direct signal power despite overall options giving 4Max proper strengths.