Clean air in a household is what we all aim to achieve with our cleaning appliances. However, it's very difficult to maintain it be it due to filtration issues in our apartments, allergens causing issues, or just a lack of time to clean.
Dyson has you covered on that front, providing air purifiers for your living space. This article will compare their specifications and provide a suggestion on which one to buy.
Dyson TP02 vs TP04 – Similarities
Name
Dyson - TP02 Pure Cool Link Tower 400 Sq. Ft. - White, silver with extra filter
Our Pick
Dyson - Pure Cool Purifying Fan TP04 - Nickel/Nickel
Image
Dimensions
8.77 x 8.77 x 41.49 inches
Features
Air Multiplier, WiFi, Dyson App
Air Multiplier, LCD display, WiFi, Dyson App
Name
Dyson - TP02 Pure Cool Link Tower 400 Sq. Ft. - White, silver with extra filter
Image
Features
Air Multiplier, WiFi, Dyson App
Our Pick
Name
Dyson - Pure Cool Purifying Fan TP04 - Nickel/Nickel
Image
Dimensions
8.77 x 8.77 x 41.49 inches
Features
Air Multiplier, LCD display, WiFi, Dyson App
Cooling option
Apart from the purifying, allergens eliminating and dust-clearing effects these two models are also capable of cooling your room.
Enhanced HEPA filter
Dyson's equipped both of these models with an enhanced filter that provides great air purifying capabilities. This is especially useful for people with asthma or allergies as it does a great job at keeping particles that could make either act up at bay.
Dyson App
The app allows remote monitoring and adjusting of your device. It is available on both iOS and Android.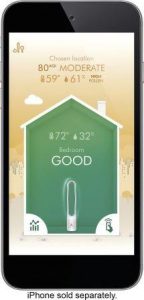 Voice Control
Using Amazon Echo, you can give commands to your air purifier through Dyson Pure Cool Link. Utilizing simple voice instructions you can easily change settings on your device without even being near it.
Bladeless Design
Lacking blades make these devices safer in households with children, as well as requiring less space overall with the smaller design. They are also far easier to clean than standard-design coolers, shortening your chores. This is signature design for all dyson products.
Night mode
If you wish to leave the device on without disturbing your sleep make sure to turn on night mode. It dims the LCD light and works quietly while still providing air purifying capabilities. Perfect for those with breathing issues, allowing for easy sleep without dust or allergens disturbing it.
Speed Options
There are 10-speed options on either air purifier, providing ample choice that allows them to conform to any season.
Air Multiplier
Long-range projection to circulate purified air across the room. This allows models to achieve a range of up to 300 square feet. A hefty surface that can cover most large rooms. Their range and the models' heads' range of motion allow for clear air with very little hassle.
Differences Between Dyson TP02 and Dyson TP04
Head rotation
The number of degrees you can rotate the head of this device around is especially important for the cooling properties of the purifiers.

Dyson TP02
First up is the Dyson TP02 with 180 degrees of coverage. Making a half circle it's best to put it parallel to your desired air purifying or cooling position.
Dyson TP04
While the previous model covers one side perfectly Dyson's TP04 is capable of 350 degrees of head rotation, almost being able to cover an entire circle.
The Winner: Dyson TP04
Difference in filters for Dyson TP02 vs TP04
Although both share enhanced HEPA filters the types and capabilities of the two differ in both filter models and efficiency.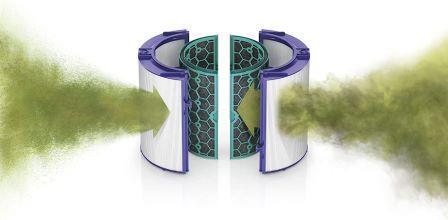 Dyson TP02
The HEPA filter on our first entrant is a 360 glass HEPA filter from 2017. TP series have since replaced it with a newer one.
Dyson TP04
As was previously mentioned newer TP04 uses a different filter, the Glass HEPA media filter. Additionally, it comes with a Carbon filter, unlike its predecessor. Regardless, both are capable of eradicating 99.97% of microscopic particles including pollen, bacteria, dust, pet dander, and other air pollutants in the air. On the other hand, TP04 does a better job of trapping gasses with its activated carbon offering three times the efficiency past models had and its glass filter being better at removing dust and allergens by 60%
The Winner: Dyson TP04
Appearance
Dyson TP02
Its leaner design does contribute to less weight overall. Although the difference is slight. The most prominent feature on TP02 is the lack of blades, instead having a singular stretched oval as its head. A small stand also makes it easily placeable wherever.

Dyson TP04
Shares a lot of design aspects with its TP02 counterpart. The difference is found in the bulkier heads, the purpose of which may be to differentiate the two. You don't lose much in terms of compact design when picking TP04. However, it does possess a neat LCD display on its tower. This displays details about air purity. The purifier automatically senses and reports air quality levels on the said LCD display.
The Winner: Tie
Read next – Coway Airmega 400 vs 400s: Which Smart Air Purifiers are Better?
Pros and Cons for Dyson TP02 vs TP04
Dyson TP02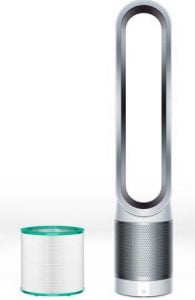 PROS
Lightweight
Bladeless design
Air Multiplier
Voice Control
CONS
Dyson TP04

PROS
Lightweight
Bladeless design
Air Multiplier
CONS
The Final Verdict
Entrants have shown that they have great specifications tied to them. We've seen the great design and quality of life features on both the Dyson TP02 and Dyson TP04. Although we have found key differences between the two devices. More specifically, these come in form of filters and features. The older TP02 has a 360 Glass HEPA filter which has reduced filtration strength than TP04's Glass HEPA media filter. Head rotation is also improved between models. These specifications make TP04's performance a lot better while maintaining the proper design features of its predecessor. Room coverage is the same so you needn't worry about your investment coming up short of range. The abilities to sense and report changes in the air are impactful for this model as it gives you a clear picture of current performances. Specifically, this is done on its LCD display which you can take a look into in case you don't have a phone at hand.
In conclusion, Dyson TP04 offers plentiful additional traits that surpass the capabilities of Dyson TP02, therefore, winning in this match-up. We suggest you consider it when you decide on purchasing an air purifier.